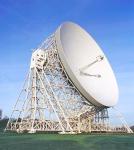 Some time last year there was some discussion on the SPA BB about the location of various posters and how people could best make the information available to others. One poster suggested that it would be handy if there was some sort of map that people could look at. I'd been looking for a reason to play with the Google Maps API so decided to have a go. Later on that day the SPA Forum User Location Map was born.

Last night, in an idle moment, I decided to revamp it a little and one idea I had was to add the locations of various sites of astronomical interest to it (the idea being to add places that are open to visit so people using the map can see how close they are to these places of interest). Today, in spare moments, I've been looking around for places to add.

An obvious candidate was Jodrell Bank. The really nice thing about their website is that they give their location on the front page:


Thing is, at first glance, it didn't look right. +2&deg longitude? Really? By my guess that places Jodrell Bank somewhere in the North Sea.
Just to be sure it would be that wet a location I added them to the map using the coordinates they give and this was the result: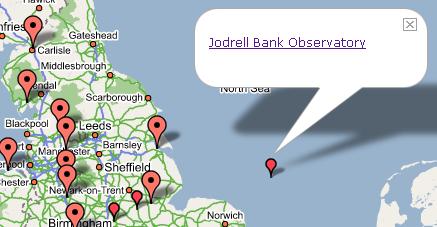 No wonder
Megan
is always talking about
observing from a roof
!
Given that their number is on the front page too I gave them a call and asked to speak to the webmaster. Got to speak to someone and pointed out what seemed to be a rather amusing mistake. As of the time of writing they seem to have changed it:

Perhaps it's just me, but that seems confusing as opposed to wrong. Either it's a method of writing longitude I've not seen before or most people are going to see that and wonder if the "+" or the "W" is a mistake.
File Under: Jodrell Bank, North Sea.