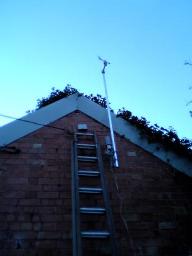 Over the weekend I finally had the time to install my new weather station. You can read about how the install went over here and you can read about my first stumbling block over here. Hopefully I'll get the latter problem sorted out one way or another pretty soon.

The nice thing about having this up and running is I can now log pressure and wind speed along with my observing logs.

File Under: Personal Weather Station, WS3600, Astronomy Observing Logs, Geek Toys.